I am a hardworking person. If you hire me, I will work very hard for you/here. My family and friends say I am a dependable/reliable and responsible person. For example, I'm always on time/punctual. You can always trust me because I am a trustworthy person. If I work here, I will always have a lot of energy because I am an energetic person. If I don't know something, I will learn it quickly because I am a fast learner person. You do not need to push or motivate me because I am very self-motivated person. I can think of ideas quickly because I am a quick-thinking person. Finally, I am willing to work hard, to work long hours, and to learn. Thank you.
這是Interview時的自我介紹的參考答案
主管問的方法有
1. Please describe yourself in several minute
2. Tell me about yourself in several minutes
3. What kink of person are you? Please tell me in several minutes.
真的真的很實用唷唷
What is your name?
My name is Huang, Yu-Ju. Huang is my family name Yu-Ju is my give name. I have a alias name is Joy Huang, you can call me Joy.
How old are you?
I am 20 years old.
Tell me about your family.
There five people in my family. They are my parents and two sisters. We live together.
What is your education?/What kind of degree do you have?
I have an associate's degree in Travel and Tourism from University of technology.
When did you graduate?
I just graduated two months ago.
Do you have your diploma?
Yes, I do. I have a copy for you.
Do you have any full-time job experience?
No, I don't. I don't have any full-time job experience.
Do you have your C.V./resume/biodata?
Yes, I do. You can keep it.
What kinds of office computer skills do you have?
I can word-process, spreadsheet by computer, do PowerPoint, and many other computer and Internet functions.
How fast can you word-process in English and Chinese?
I can word-process about 30 words a/pen minute in English and about 40 character a/pen minute in Chinese.
What kinds of filing skill do you have?
I can file by hand and by computer.
What office machines can you use?
I can use copiers, printers, scanner, and others.
We do a lot of English writing have. So, how are your English writing skills?
My writing skills are average, but they are getting batter and batter.
上面上面是精華,也是我這次參加營隊最最最大的收穫
以後要去美商公司應徵,一定要背熟唷!
Edward說:台灣的履歷表和國外的履歷表差很多
台灣的履歷表很多頁;國外的履歷表一頁就解決了
穩潔超級不習慣的,英文履歷真的只有這麼少嗎??
最後一天了,表演節目好精采!!
李小龍,實在是太酷了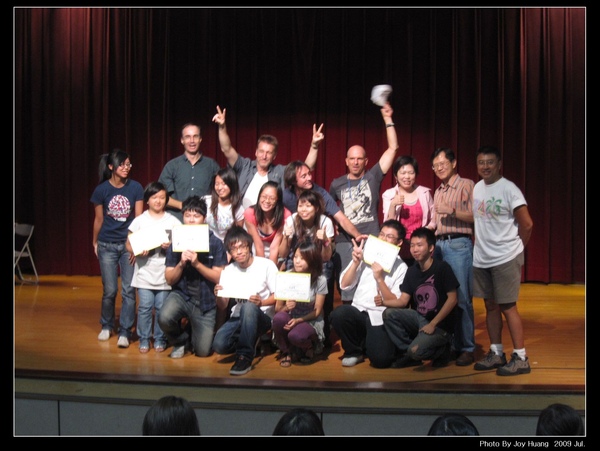 待續