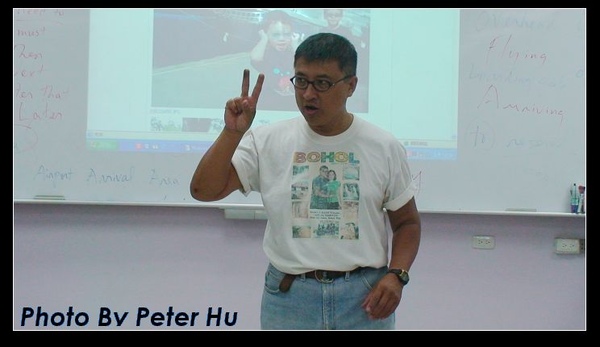 Third Day
第三天,Edward一樣在黑板上寫著滿滿滿的字阿
One English teacher's name is Edward. His friends call him Ed because that is his nickname. He is 51 years old. On his next birthday on Oct. 13, he will be 52. He was born in 1957, which was the Chinese Lunan yean of the Roosten. He is 169 centimeters tall and his weight is 77 kilograms. He is a little overweight. He is a little overweight. Because he loves to eat and to drink born, he is overweight. He excuses several times a week, so he doesn't gain too much weight.
In Edwards free time, he lovers to spend time with his 2 sons. Edward afternoon, he takes them out. They go to park, playground, play centers, museums, water parks, amusement parks, and many other plus, When he can relax, he reads books, newsmagazines, newspapers, and online reading. Also, if the children are asleep, he can watch TV on a movie, Edwards and his family go around often.

When Edward was single, he out a lot with friends and dates. For example, they went to dance clubs, pubs, and often night places. Before he had children, he traveled to many counties. He has a good/wonderful marriage, and he loves his wife and children very much, but he misses his free single life. He had a lot of free time when he was single.
Edward gets around by motorcycle. His wife takes the bus and the MRT or taxis. Some times Edward takes the MRT or taxis . It takes 15 or 20 minutes to go/get to work by motorbike. He loves/enjoys riding a motorbike because it is fun and exciting. When he goes someplace by MRT, he also likes/enjoys it because it is a good time and opportunity to do/go girl watching. His wife sometime doesn't like that he looks at/watches girls to much.
When Edward was a student, where did he study after school? He often studied in the school library, in a neighborhood library at home, or in his classmates house or dorm rooms. He got/received very good or good grades, but he didn't got/receive good grades in math. He was so bad at math. In fact, he failed classes/course math many times.
好險學英文有一段時間了
要不然一定會嚇跑我的
而且我好想睡覺,昨天晚上上英文課,十點多才到家裡面
然後又寫英文履歷,要爆肝啦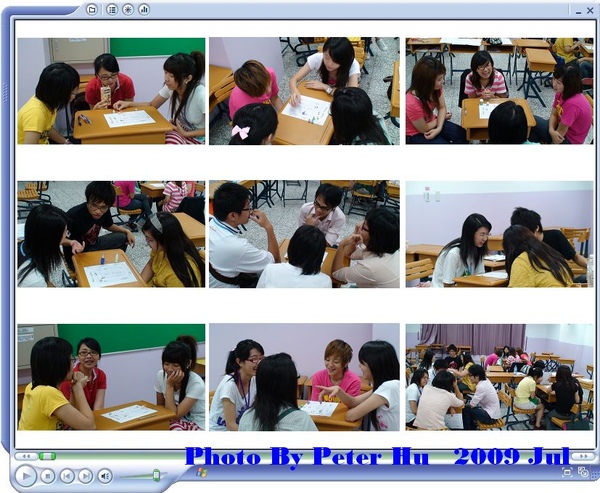 然後Edward教我們玩類似大富翁的遊戲
走到哪就要問一個問題
例如
Tell us about your ideal job?
Tell us about your a good friend?
Tell us about your hopes for the future?
Tell us about what you do in the evenings?
等等
中午吃比薩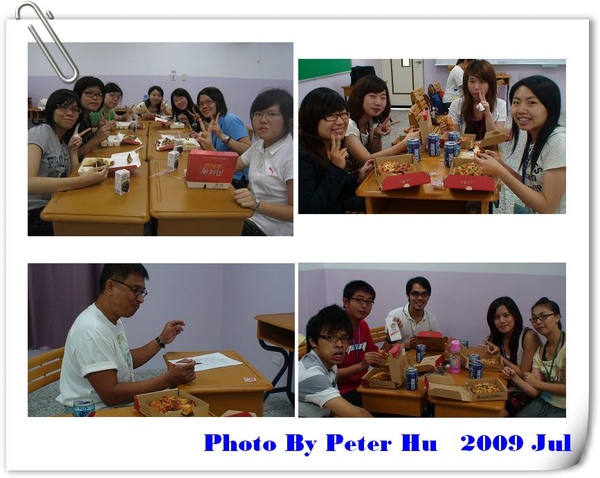 我有驚喜到,Pizza也
不過,吃不飽捏
下午寫Letter
昨天寫完C.V.今天寫Letter
辛苦的Edward,利用中午吃飯時間邊吃邊改我們的作業
每天的四點到五點是星期五表演節目的演練時間
感謝Felipe出來帶領喔
綜藝咖